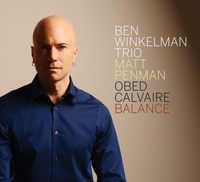 (Editor's Pick) With the release of his sixth album as a leader, Australian-born, New York-based pianist Ben Winkelman continues to develop his concept of a piano trio whose primary artistic goal is to strike a balance between composition and improvisation. Bassist Matt Penman and drummer Obed Calvaire—both of whom never had played with Winkelman until this recording session—are featured as more than just sidemen/soloists. In crafting his meticulous arrangements, Winkelman treats his bandmates as if they were part of a small orchestra, providing them with detailed parts that are integral to the 10 original compositions on Balance. The music draws from Winkelman's vast musical interests (including Afro-Cuban, gospel and classical influences) filtered through a jazz perspective.Highlights include the odd-metered "Bx12 Part One" and "Bx12 Part Two," the satisfying medium-tempo swinger "April," the dreamlike ballad "Santiago," the structure-meets-spontaneity of "Window Shopping," the harmonic ambiguity of "The Trip" and a rhythmically challenging treatment of Thelonious Monk's "Bye-Ya." The intellectual meets the intuitive by design throughout the entirety of Balance as Winkelman's trio of equals, perpetually seeking a state of equilibrium, approach joyful swing, hard-hitting rock and chamber-like inventions as one big, interconnected thing of beauty. - Ed Enright, Downbeat (USA)
(4 stars) Jazz, much like life, is an art of balance, a forever dance on the scales which keep our sanity and existence in check. Form must always reckon with freedom, scripts and spontaneity are bound by mutual understanding, and intellect blossoms truest as it holds the heart in high regard. Only in a state of relative equilibrium can the music find its real footing, its foundation, a place to grow. 
On his fifth album to date, pianist Ben Winkelman addresses this very notion through the even-handed spread of action and reaction. In that respect, both logic and unpredictability hold sway over these songs. Opening on "Bx12 Part One," Winkelman immediately marks himself as a man who's content in his knowledge yet restless in spirit. This tale of mass transit, built around a clave in eleven, captures the rush of movement toward a loved one and the claustrophobic nature of a bus ride to the Bronx. It also highlights the heady interplay between Winkelman and his ace trio mates—bassist Matt Penman and drummer Obed Calvaire. Together, these three tackle thorny thoughts, essay beauty with singular style, and swing hard right down the line at various points in the program. 
Bouncing between different moods and themes in short order, this trio never misses a beat. With "Wheels" everybody catches the spirit and leans on gospel glories. Through "Santiago" Winkelman winks at the capital of Galicia, Spain, with a beautiful glint in his eye. On "Merri Creek" he looks back to his native Australia for inspiration. And with "Window Shopping" and "The Trip," Cuba comes into clear view from various angles and vantage points. 
While original music is the focus for Winkelman, his inclusion of Thelonious Monk's "Bye-Ya" acts as a bow to influence as well as a point of confluence. The personality of composer and interpreter each ring true in the performance's unfolding. Then it's back on the bus for "Bx12 Part Two," where the trio bids us farewell while investing its energy into Latin sway. It's but one of many looks at Winkelman's balanced mind and movements. - Dan Bilawsky, All About Jazz (USA)
Feature and Q&A with Matt Micucci, Jazziz (USA)

(4 stars) Pianist Ben Winkelman's fifth album is so good that, ironically, its overwhelming brilliance may limit its appeal. It is so innovative, and played with such power, that the listener is left open-mouthed. Still, it creates a mystique which I for one find fascinating. Winkelman, imbued with a restless musical intelligence and an impeccable knowledge of the piano keyboard, was born in Oregon, grew up in Melbourne, and has lived in New York since 2010. Recorded in New York Balance features Australian bassist Matt Penman and American drummer Obed Calvaire. Nine compositions are from Winkelman and one from Thelonious Monk. Winkelman is most exploratory in his treatment of time and pulse but, even when the rhythms and time signatures in the music are complicated and ambiguous, three brilliant musicians fly through the music with faultless virtuosity. To take on this album, however, be prepared for a formidable challenge. - Eric Myers, The Australian (Australia)
Ben Winkelman's fascinating trajectory has taken him from Australia to New York with a most stimulating detour through Cuba. With world-spanning roots spread over all those territories, his approach to the keys insistently leans bright and rhythmic, which is an absolute delight for listeners who enjoy their tropical sunshine with a hint of the tango. 
A dose of Thelonious Monk gets the easy-swinging island treatment, and all-original remainder of Balance walks a fascinating line between breezy cool and wicked-sharp smarts. Obed Calvaire and Matt Penman deliver snappy flair on the rhythm front, as brisk and sharp as such well-built pieces demand. The complementary pair of bookends evoke the steady bounce of mass-transit busyness even in intriguingly odd time (further reinforced by the addictingly hot-to-trot "Wheels"); several others serve as colorful portraits of locales from Australia to Havana, while the quietly pretty highlight of "Santiago" paints a view of a cityscape full of lights on a warm spring evening. 
Winkelman does indeed nail the theme of balance here: between exotic and familiar, sharp and playful, simple and multi-shaded (and many other characteristics besides). This whirlwind of a tour has enough life to encompass them all. - Geno Thackara, All About Jazz (USA)
I wasn't familiar with Australian-reared, New York pianist Ben Winkelman until receiving a copy of his recently released fifth album Balance (OA2 Records), which left me determined to catch him in performance. A startlingly impressive trio session focusing on his original tunes, the album brims with ideas and his love of Afro-Caribbean rhythms. Joined by the great New Zealand-born bassist Matt Penman, who spent a dozen years anchoring the SFJAZZ Collective, and the commanding Haitian-American drummer Obed Calvaire, a current member of the Collective, Winkelman plays with an idiosyncratic rhythmic feel informed by his love of Latin music and early jazz idioms. He brings the same stellar trio to San Francisco's Black Cat for a two-night run. - Andrew Gilbert, San Francisco Classical Voice (USA)
The title of this album fits well, as pianist Ben Winkelman creates a symbiotic balance between interplay and soloing with bassist Matt Penman and drummer Obed Calvaire on this ten song collection of originals plus a cover. Of the latter, Thelonious Monk's "Bye-Ya" is a crisp and spacious rendition, while the rest of the pieces reflect good listening and lyricism. The time joyfully changes pulses and "BX12 Part One" with Winkelman giving ten fingers a full punch on the rich "April". The team shows it can bop with the best during "Wheels" and the fingers get intricate for the playful "Merri Creek." Tighter than the Houston Astros infield. - George Harris, Jazz Weekly (USA)
The jazz piano man that likes odd meters is back with his new set of switch backs that leave you guessing where it's improv or composed. The kind of cat that keeps you on your toes but doesn't indulge in art for art's sake, he tickles the ear as well as the fancy with this set that just let's the music do what it will----and it always does the right thing. Solid stuff that's going to keep his legend growing. - Chris Spector, Midwest Record (USA)
Ben Winkelman is an Aussie jazz pianist who found himself in New York on the jazz scene with a strong penchant for Modern Jazz with Latin, Afro-Cuban flavors. He leads a strong trio with bassist Matt Penman and Obed Calvaire on drums. All of the music is original except a cool arrangement of Monk's "Bye-Ya". There's a touch of gospel on "Fala Baixiño" and a breather on the relaxed "Santiago" but otherwise it's spirited modern jazz as on "BX12 Part Two" and "Merri Creek". This is Winkelman's 5th recording as a leader and he's on point! - D. Oscar Groomes, O's Place (USA)
The Knife (2015) reviews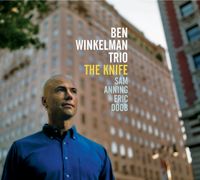 His first set as a leader since moving from Oz to the Big Apple, Winkelman shows his penchant for coloring outside the lines with grace and the kind of finesse that shows this is much more than an exercise in creativity for the sake of creativity. With odd meters and unexpected switchbacks carefully made to look like casual toss offs, this piano jazzbo finds a way to mix the familiar with the unknown into a stew that keeps your ears on point throughout. A swell treat for modern jazz fans that want to hear piano trio work heading in new directions.  - Chris Spector, Midwest Record (USA)

A few traits concerning pianist Ben Winkelman were pretty clear after hearing as few as four or five tracks among the thirteen played on this session. First, he is adventurous, but still accessible. Second, he likes tricky, pert little melody lines with lots of movement. Third, Winkelman resolves his upbeat melodies with very satisfying chord work. Fourth, there is a suggestion in listening to him that Winkelman "put in his time" with the intricacies of Bach, Czerny and others who shape a pianist's skill. His playing mates are Sam Anning on bass and Eric Doob on drums. Winkelman's music is airy, free-flowing and full-flight, but thankfully he never slips from the controls. You will also notice a consistency of touch, sure and comfortable. If you asked me, I would bet that Winkelman has listened to such players as Herbie Nichols or Elmo Hope, and sometimes there is a touch of Monk or even Mose Allison. - George Fendel, Oregon Jazz Scene (USA)

Pianist Ben Winkelman trios it up with Sam Anning/b and Eric Doob/dr for a Baker's Dozen collection of originals. Winkelman has a warm and classy touch, showing deftness and thoughtfulness on "While I Sleep" and "Westbury" as well as strength on "The Schlep" and title track. There's lots of interplay and clever conversations between Doob and Winkelman, with a wink of an eye here and there on ""Prospects" and Anning keeping things flexible on "Descarga." These guys sound quite cohesive, and hopefully they'll tour around so we can see them in person. - George W. Harris, Jazz Weekly (USA)

Top Jazz Picks of 2015: 8. Ben Winkelman Trio – The Knife – Fresh take on the trio. Not so much of a swinging record but played with writing and musical imagery that reflects deep thought, passion and sophisticated vision. - Jae Sinnett, WHRV FM (USA)
PBS FM Feature Record of the Week March 2016 
"For any who had the pleasure of seeing and hearing Ben Winkelman perform in and around Melbourne in the early 2000's it would seem inevitable that he'd uproot and move himself to jazz music's epicenter in New York. It was equally obvious that Winkelman's composition and approach would continue to draw from myriad stylistic and cultural stimuli rather than simply following the straight piano/bass/drums tradition.
For this latest Ben Winkelman Trio album The Knife we get to hear elements of Latin and South American groove, some laid-back New York cool, driving old-school rhythms and just a few hints to the cheekier side of Winkelman's compositions so evident on previous albums. The Knife marks the first recording for the Ben Winkelman Trio with rising NY drummer Eric Doob alongside recent National Jazz Award winner Sam Anning on bass. Throughout the 13 tracks of this album the rhythm section adroitly struts alongside Winkelman's constantly shifting moods and tempo. The energetic 'Sylvia' possibly gives the best representation of how the individual musicianship of these three players can coalesce into a collective group sensibility. Singling out any one track however probably does a disservice to the overall quality and breadth of this stunning album.
Ultimately The Knife by the Ben Winkelman Trio is an album that sounds fresh and exciting while still being able to satisfy those that revere the classic jazz trio tradition." - Owen McKern – PBS Program Manager (Australia) 

**** "Ex-Melbourne pianist Ben Winkelman, New York based since 2010, has just released his fourth trio album, this one recorded in, and inspired by New York. His first, Stomps, Pieces & Variations appeared on Jazzhead in 2005.
Winkelman's playing has certainly evolved since he moved to the US, but he remains interested in Afro-Cuban, Brazilian, and Klezmer music – a style of Jewish traditional music often played at weddings – as well as classical music, and incorporates these influences in his trio setting.
The thirteen originals demonstrate Winkelman's command of various jazz piano approaches: Silvia works through an uptempo post-bop piece with big luscious chords and a quick melodic line, while Remolacha (Spanish: sugar beet) employs a Latino rhythm, with suitably discursive piano treble, and allows wide scope for Sam Anning's bass contributions, as well as for Eric Doob's inventive percussion.
The title track uses brief semi-classical excursions in a composition that also includes a bluesy undercurrent and fast Art Tatum-like runs. The longest track, The Schlep, at over seven minutes, features clever rhythmic hesitations, giving the bass an opportunity to weave through an emphasised solo, and Doob offers a punctuated passage between Winkelman's chords.While I Sleep successfully paints a dark scenario with dreamy passages, yet swings in a strong way, abetted by Anning's solidly stable bass line perfectly integrated with the piano.
This is an album of great variety, showing that much can be achieved by a piano trio with imaginative compositions, and skilled, unified players." - John McBeath, The Australian 

"There is a school of thought that suggests that artists create in order to better understand the world in which they live. From this perspective, music can be viewed as a way of knowing; a way of creating sense and order in the musician's world. Though this might seem an overly profound idea, it is such a normalised aspect of a musician's life that it often exists unnoticed, as a hum beneath the static of daily musical activity. The Knife, the fourth release from pianist and composer Ben Winkelman, however, is an overt manifestation of this idea. It is a deliberate and candid journal of his move from Melbourne to New York some six years ago.
This sense of documented journey is one of the many compelling aspects of the album: Through a homogenous blur of son, samba, danzón, gospel, odd-metres and indie-rock Winkelman spins tales of love and loss, public transport, a coffee machine, and even the humble beetroot!
While Winkelman's writing on The Knife is intelligent and complex, it is the emotion and lyricism that really impress. Tracks like Remolacha and The Crush are possessed of an almost irresistible sense of dance, while Prospects and Chico are potently lyrical and song-like.
Those who know his playing will be pleased that Winkelman's move to New York has (if this album is to be taken as an indication) not resulted in a loss of self, but a strengthening of his musical identity. Winkelman is not redefining himself here, but extending and expanding. His playing on The Knife, while controlled and precise – evidence of his preparation for the session, perhaps – abounds with warmth and spontaneity.
Sam Anning, also an Australian expatriate who made the pilgrimage to NYC (though recently returned), shows on this album definitively why he is among the most sought and loved bassists in Australia: His time, sound, intonation and command of the instrument are simply impeccable.
While there is a risk that an autobiographic journal in any medium can descend into the realm of the indulgently personal, The Knife is a wonderful example of what can happen when a skilled, feeling musician observes and responds to change with intelligence and humility." - Eugene Ball, Loudmouth, The Music Trust E-Zine (Australia)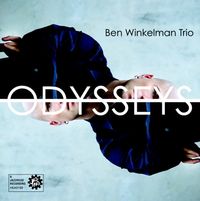 "Something special is needed for a piano trio to make a splash these days, so crowded are the waters with talent. With Odysseys, however, pianist Ben Winkelman's trio manages just that. For seventy absorbing minutes, the trio captures the ear, providing thrilling evidence of a stellar contemporary trio to rank among the best. Australia's press has lavished praise on Winkelman since his debut Stomps, Pieces and Variations (Jazzhead, 2005), but the outside world has been slow to catch on.
In "The Seven Odyssey," Winkleman expresses more ideas in ten breathtaking minutes than many pianists do on an entire CD. The title refers to its 7/4 Cuban rhythm, but could almost refer to the number of different styles that flow from the pianist: Winkleman skips from hypnotic isorhythms to Afro-Carribean grooves, which then give way to jaunty ragtime figures; these, in turn, dissolve in fractured tempos and occasional playful dissonance, which hint subtly at the influence of pianist Thelonious Monk. European classical veins, of etude-like simplicity and elegance, also find their way into the mix.
It might sound like too many eggs in one basket, but there's a tremendous cohesion and natural flow to Winkleman's sweeping compositional imagination. Like a magician pulling a seemingly endless handkerchief from a pocket, Winkleman uncoils single-note lines of numerous colors in a surprisingly spare manner, given just how much is going on. Winkelman has highly attuned and empathetic partners in bassist Sam Anning and drummer Ben Vanderwal, whose crisp style is punctuated by myriad telling accents: huffing hi-hat; rim rhythms like tap dance; tambourine; wood block; and cowbell. Anning anchors the trio with quietly stated contrapuntal lines, coming into his own with lyrical statements on the episodic "Vampires," which evolves from a dark-toned mood piece to outright swing, and on the touching ballad, "Dislocation."
Dancing Brazilian rhythms and Winkleman's classical leanings happily coexist in the highly melodic "Quandaries," with Vanderwal's ride cymbal driving the trio. The drummer's brush work is exquisite on the unhurried, lyrical "Dislocation," and his light touch on the cymbals lends wonderful support and nuance to Winkelman's delicate musings.
The joyful, freewheeling "Stevie's Warm Chords" and impressionistic "Avian Melancholy" stand in sharp juxtaposition, underlining the great emotional range of this trio. Winkelman's flow of chords acts like little bridges between his arresting runs. The mere spark of an idea is fanned on "Steppin' To," and is a fascinating exercise in disciplined interplay. The 5/4 time of "The Five Odessey" closes out the album in as strong a fashion as it began, with Cuban chords patiently building tension before segueing into a delightful reggae groove, over which Winkelman and Anning trade back and forth playfully.
Odysseys succeeds on every level: melodious, with a healthy dose of dissonance; swinging, yet making elbow room for odd meters; alternatively grooving and melancholy; technically impressive; and always engaging. Winkelman's compositions strike a fine balance between structure and freedom, and this fine trio statement whets the appetite for what lies ahead."
- Ian Patterson, allaboutjazz.com, Feb 2011 (USA)
"Australian jazz musicians are nearly as rare in New York as kangaroos at the Bronx Zoo (which has no 'roo compound at present). Makes you wonder why: recordings from Down Under, with few exceptions, impress favorably with their originality, invention, humor - and the musicians' sheer prickly cussedness. They really insist on playing their own way. Pianists exhibit as widely varied approaches and singular intent as architects in Chicago's urban neighborhoods. (Among the deservedly better known are Mike Nock [New Zealander, famed in US, 1961-85], Paul Grabowsky and Joe Chindamo).
Here we meet up with two younger, quixotic keyboard exponents on lively Melbourne's Jazzhead label. Both ear-fetching dates boast young Sam Anning on bass, serving as sterling timekeeper, plucker of relaxed cantabile blues and abettor of 'out' ideas, written and/or freely imagined. (Word has it that Mr. Anning will soon up Manhattan's Aussie jazz musician quotient by one.)
Pianist Ben Winkelman opts for all originals for Odysseys, mostly impressive, quirky and a tad wild - even if carefully structured. They seem true musical adventures, even if the studio setting spotlights them as stark studies of contemplation. Latin vernacular is spoken throughout, with notes to Eddie Palmieri and Danilo Perez as well as nods to Herbie Hancock and Kenny Barron. Bookends to the album are 11+-minute through-composed odd-metered romps. "The Seven Odyssey" ventures through taut mazes of mambo, ragtime, bop, ricky-tick and salsa while "The Five Odyssey" opens with Ben Vanderwal's ominous drum figures underpinning a bold staccato unison theme, periodically relieved by smoother statements and fine solos by Anning and the leader. Edgy balladry ("Dislocation"), Olivier Messaien homage ("Symmetry") and a compendium of Stevie Wonder chords set to street samba (poignantly yummy Anning solo) are among Winkelman's other eclectic offerings."
- Fred Bouchard, NYC Jazz Record, Aug 2011 (USA)****
"IT'S been a long time coming. Three years after the release of the superb The Spanish Tinge, the old trio is back. The standout feature of Winkelman's piano is his dexterity; that uncanny ability to balance several moods at once. It's a light and subtle touch, shifting from one to the other effortlessly. There is nothing predictable here. It's all backed by the same crew of Sam Anning on bass and drummer Ben Vanderwal. The opening and closing tracks, The Seven Odyssey and The Five Odyssey, serve as bookends for this collection of atmospheric pieces that combine jazz with Latin and Afro-Cuban rhythms. Most fascinating is the way Winkelman, with his fluid attack, can shift so seamlessly between moods. The best example of that is The Seven Odyssey. Fine work by Anning includes a beautiful solo on the final track; an intriguing opening from Vanderwal sets up a three-way conversation on Steppin' To. Similarly, there is fascinating interplay between Anning and Winkelman on the ballad Dislocation, a track that allows Winkelman to create many voices from one instrument."
- Leon Gettler, The Age Green Guide, Oct 2010
(Australia)
"Odysseys is the third and latest release from the Ben Winkelman Trio, following on from Stomps, Pieces and Variations (2005) and The Spanish Tinge (2007).
The album provides further proof, if any were necessary, that Winkelman occupies a truly unique and important space as a contemporary composer, improviser and bandleader. His music is greatly informed by early jazz traditions, and Latin and Afro-Cuban styles, but this is no mere melting pot of influences; Winkelman's compositions carefully sift through these elements with an explorative, playful sense of imagination, resulting in a forward-thinking confluence between tradition and innovation.
At the same time as Winkelman's mastery of these piano styles is immediately evident, there also exists a sense of youthful euphoria in their execution – sometimes cheeky, sometimes fascinatingly complex, these montunos and stride patterns always emerge organically from within the overall compositional narrative, and always with a freshness of discovery that cannot come from mere imitation.
It is a testament to Winkelman's vision for these pieces that stride, montunos and various rhythmic tangents can be found sitting side-by-side in a way which only enhances, rather than confuses, the narrative they belong to. At the same time, the dynamic interplay and symbiosis between Winkelman, Anning and Vanderwal allows for their flawless execution.
My experience of listening to this album was strongly defined by the trio's constantly evolving rhythmic landscape. 'The Seven Odyssey' stands out in the way it steadfastly avoids any thought of predictability. It opens under the pretense of an invitation, but an arpeggiated, downward-spiraling theme soon encapsulates with its rhythmic invention, and with it the listener is whisked away on an eleven-minute voyage. Interludes from Vanderwal prompt numerous changes in direction, teasing and almost encouraging an overstimulation of the aural senses before settling into a more consistent groove as Winkelman's solo unfolds over an oscillating rhythmic setting.
Vanderwal's solo introduction to 'Vampires' anticipates darker chords and textures, and the melody, once established, passes to the bass and becomes an underpinning figure, allowing Winkelman to experiment with mood and colour. This track typifies a common device in Winkelman's writing – with an almost twisted sense of humour, the most innocent and quirky little motifs and patterns can quickly morph into something completely unexpected.
Engaging, and at times absorbingly meditative possibilities are offered by combining percussive techniques of each instrument to create interlocking complexities. This is demonstrated on the track 'Quandaries', where at its peak Winkelman's chordal punctuations, grounded by the warmth of Anning's bass, join Vanderwal's fierce latin drumming to create an irrepressible groove.
The trio's softer side is highlighted on 'Dislocation', a ballad which unfolds with much space to breathe around Winkelman's poetic melodies. The piece affords a moment of introspective questioning as both the piano and bass come to the fore, the latter with an intimate sense of self-realisation that floats over Vanderwal's brushwork.
Anning's clear tone and natural melodic phrasing are again on display during a short bass solo in 'Stevie's Warm Chords'. This tune's chordal theme pushes forward with a sense of urgency, which is expanded upon during the piano solo, where Winkelman's exciting linear dexterity takes flight over the rhythm section's driving support.
All of the album's nine tracks are worthy of repeated listening, and the trio's imaginative attention to detail is evident throughout, consistently offering subtle possibilities and surprises. All three players are exceptionally skilled, and the group as a whole demonstrates a remarkably clear purpose and vision for its music. At a generous running time of almost 70 minutes, Odysseys is a no-holds-barred exploration of the exciting rhythmic potential of a modern piano trio."
- Dan Sheehan, extempore.com.au, 2010
(Australia)
"I seem to be listening to a lot of piano trios lately. For whatever reason, the past year has seen an abundance of piano trio releases; both locally and internationally. Odysseys, the much anticipated third release by the Ben Winkelman Trio, is one of the best.
Odysseys continues the collaboration between Winkelman, bassist Sam Anning and percussionist Ben Vanderwal which was first documented on 2007's The Spanish Tinge (2005's Stomps, Pieces and Variations employed a different rhythm section), but unlike that album, this time Winkelman employs the trio format throughout, opting against inviting any guest players. It's a good decision, as there is so much breadth and variety in the music on offer that the extra colours afforded by additional percussionists or horns are unnecessary. In fact, one of the joys of this release is waiting to see where Winkelman will take his trio next.
The album title refers to two extended form compositions that bookend this album, The Seven Odyssey and The Five Odyssey. Just as Homer's Odyssey describes a meandering and indirect journey from Troy to Ithaca, Winkelman's two "Odysseys" also follow a circuitous route as the composer explores the myriad possibilities of the time signatures indicated in the titles (7/4 and 5/4 respectively). Listening to the trio navigate the unexpected twists and turns in these compositions is great fun, and the band's ability to take each tangential episode in its stride demonstrates what an accomplished and versatile ensemble this is. In keeping with his earlier albums, these tracks explore the interplay of Latin rhythms, early jazz piano styles and modern contexts. If you've ever wondered what Jellyroll Morton would have sounded like had he lived in Havana and played in 7/4 time (and who hasn't?) you might find your answer here. The diversity of Winkelman's musical interests and the unique yet organic way in which they are incorporated makes this truly post-modern jazz, drawing, as it does, on the jazz tradition in its entirety, yet sounding undeniably of today.
The opening harmonies of Stevie's Warm Chords confirm that the Stevie of the title is a certain Mr. Wonder. As with all the best tributes, Winkelman has taken this influence and crafted a piece which is as much a reflection of the composer's personality as it is homage. Vanderwal's drumming is particularly effective in this track, constantly pushing the groove along without ever becoming overbearing.
Avian Melancholy is a lovely gentle ballad in 5/4 time. While the melody is vaguely reminiscent of Fats Waller's Jitterbug Waltz, the dynamic of the piece is closer to Evans or Jarrett. Of particular note is Anning's subtle yet consistently interesting accompaniment. He pushes and pulls against the meter, throwing in the occasional double stop and fetchingly melodic hook, and not just in the bass solo.
This music effortlessly accompishes the difficult balance between the cerebral and the visceral. While Winkelman's exploration of different time signatures, textures and rhythmic styles may sound academic on paper, the lyrical melodies and the sensitivity of his cohorts make this an album that will be enjoyed by anyone who loves beautiful music. Odysseys is a gem."
- Aaron Searle, Music Forum, Feb 2011 (Australia)
The Spanish Tinge (2007) reviews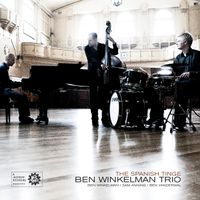 ****
"The 'tinge' in the title track refers back back to Jelly Roll Morton, the great pianist, diamond-toothed hustler, dandy, pimp, loudmouth and jazz music's first great composer. His business card described him as the 'Originator of Jazz'. Morton's advice:'If you can't manage to put tinges of Spanish in your tunes, you will never be able to get the right seasoning, I call it, for jazz.' Morton, a New Orleans Creole, redefined jazz with cross-cultural ethnic tastes and spices, which Winkelman seems to recognise. Here, the Melbourne pianist cooks up a bouillabaisse of flavours including stride, tango, Latin and Afro-Cuban rhythms. With bassist Sam Anning and drummer Ben Vanderwal. The presentation is tightly drilled but the music zings with an electricity of counterpoint and ideas popping up everywhere. Even the genres are reshaped: a tango rhythm worked over with a chord structure and melodic line not heard in that setting shifts in time, transforming a Latin beat. The most stunning moment is saved for last in his jazzed-up rendition of the emotional Yiddish song, Vilna. More please."
- Leon Gettler, The Age Green Guide, May 3, 2007****
"Melbourne pianist Ben Winkelman has travelled an individual path since his 2005 album Stomps, Pieces and Variations, which resurrected ragtime and stride piano using his contemporary-styled originals. The new title is a quote from Jelly Roll Morton, who believed the Spanish Tinge was essential seasoning for jazz, meaning Latin rhythms and Habanera ideas ought to be inherent in the music. Winkelman has achieved this by more than simply playing predictable Latin beats; he moves between rhythms, sometimes abandoning tempo altogether, and makes effective use of extended harmonies, swinging improvisations, even classical phrases. All but one of these pieces are originals and the title track is the only one to include ragtime references, but in Winkelman's signature style it soon digresses into a contemporary piano groove, then stately tango rhythms, followed by an evocative Latino-flavoured bass solo from Sam Anning. Ben Vanderwal handles the often complex percussion extremely well in this unusual exploration of nostalgic styles from the Spanish Quarter of old New Orleans, with a 21st-century makeover."
- John McBeath, The Australian, May 12, 2007
"Usually when a Jazzman evokes the Spanish Tinge, the listener can expect some lilting, musical sunshine, but not on a session that opens with a track titled "Hurtling Towards The Grave". But then pianist and composer Ben Winkelman has us hurtling toward the grave to the sound of a gliding little figure that evokes Vince Guraldi's "Skating" theme from "A Charlie Brown Christmas". Clearly Winkelman has different ideas about such matters. That includes the piano trio. While his piano is front and center, and indeed is barely quiet through the hour-plus recital, gently or insistently comping during bass and drum solos, his pieces are composed of interlocking parts provided by bassist Sam Anning and drummer Ben Vanderwal. These are not head-and-solos renditions but closely argued musical treatises. The bassist grounds the pieces in deep vamps, a basso voice of conscience that insists on the integrity of the structure. The drums provide both color and melodic counterpoint. For his part Winkelman is in the mode of younger pianists who are more and more insisting on reclaiming the full resources of the piano. His touch is halfway between the losseness of Jazz and the precision of classical. He's able to slip to and fro between approaches as he does on "Issachar." "The Tearing of the Veil" evokes the aura of the tango as much as its beat with the song's sense of reserve wrestling with bawdy house sensuality. The title track, a rollicking tribute to Jelly Roll Morton, who first evoked the idea of the Spanish Tinge, demonstrates both the pianist's wit and his formidable piano technique. He knows what a piano should sound like. Vanderwal, with his sprightly march beat, and Anning, with his bow stroking and plucking, make sure the piece never descends into old-time parody."
- David Dupont, Cadence, April-May-June, 2008****
"Pianist Ben Winkelman's first album Stomps Rags and Variations came like a bolt from the blue with virtuosity and inspiration across a wide historical span. It was no fluke: The Spanish Tinge is just as thrilling and mind expanding. Pianist Jelly Roll Morton referred to the Spanish tinge (or Latin influence) as integral to jazz and the leader's lively stride piano is heard only on this title track. This is not just reheated Latin jazz. On many compositions, quite different stylings are grafted onto Latin roots - tangos to salsa rhythms and more - creating their own patterns, logic and boundless energy. Ben Vanderwall on drums and Sam Anning on bass have telepathic senses for the complex changes. Winkelman closes with a signal to what could be a future venture using horns to add subtle tonal colours to his take on the Yiddish ballad Vilna."
- Derek Leather, The Sunday Age, M Magazine, July 2007
Stomps, Pieces & Variations (2005) reviews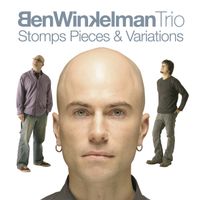 ****
"The debut album of Melbourne's Ben Winkelman Trio is quite splendid. Pianist Winkelman's 14 joyous originals embody the exhilaration of music making and not a hint of fat. Bassist Rodrigo Aravena and drummer Danny Fischer are wonderful collaborators. Lines are clean, concise, decisive, dynamics deft. Winkelman reaches back to the Harlem stride pianists (he immersed himself in Duke Ellington as he wrote) and the "Spanish tinge" of Jelly Roll Morton to produce a harmonious propulsion that defies the listener not to smile. On his website Winkelman notes that his grandmother played in an all-girl ragtime band in New Jersey in the 1930s and wonders if his recent interest in earlier jazz forms might result in part from genetic memory. If so, thank you lady ragtimers, for here be riches. Writer Kurt Vonnegut, proceeding into his 80s, offers as his epitaph, should he ever need one: "The only proof he ever needed of the existence of God was music." When so much of music is a tale told by an idiot, full of sound and fury, signifying nothing, here we come a little closer to the divine."
- Ken Williams, The Age Entertainment Guide, November 11, 2005****
"Just when we thought everything possible with jazz piano trios had been done, this Melbourne trio's debut album forces a rethink. As the title suggests, this is an unusually diverse collection of pianist Ben Winkelman's original compositions. Opening track Trio Piece In Seconds And Thirds is a good example of Winkelman's diversity. Beginning with elements of contemporary classical, then moving to a bass and drums-studded bebop style, it segues into an authentic rickety-tick ragtime. It's as if Scott Joplin had detoured via Herbie Hancock with advice from Bela Bartok, all influences that Winkelman acknowledges. Rodrigo Aravena (bass) and Danny Fischer (drums) are essential ingredients in the mix, contributing foundational stabs, rhythmic emphasis, interposing phrases and swinging solos, particularly from the double bass. This highly original music traverses vastly varied territory, utilising pre-modern styles such as stride piano, but reinterpreting and refurbishing them in a contemporary setting."
- John McBeath, The Australian, November 5, 2005
"Sometimes it seems like just about everybody is styling themselves "eclectic" nowadays – it's a word I've come to dread when it turns up in press releases – but Australian pianist Ben Winkelman is the genuine article, a determined crossbreeder of styles whose music is inventive and often surprising. Classical music and tango and klezmer are all in there somewhere, but what's most striking about his music is his determination to inject stride piano and ragtime into a familiar post-Hancock/Tyner keyboard idiom. Usually when contemporary pianists hark back to earlier styles it's via Monk and Ellington – key names here are Jaki Byard, Ran Blake, and Dave Burrell, not to mention European players like Guus Janssen and Michael Braam – but Winikelman doesn't go that route, and perhaps as a result there's something of a stylized etude-like quality to his music ("Study In Seconds and Thirds" could have been straight out of Debussy's Children's Corner). I'm left with the feeling that the individual components of this music are less original than the way it's put together, but it's hard not to enjoy the panache and sense of fun: Winkelman's tunes keep you guessing, and the trio negotiates their hairpin musical turns with ease and vivacity. Best tracks: the fast-paced "The Deadly Vice of Nostalgia", the quietly estranged ballad "Stand A Little Taller At Yom Kippur", and the genre-hopping minor key swinger "Trio Piece In Seconds And Thirds". In the era of the postmodern piano trio, Winkelman's already claimed his place at the table."
- Nate Doward, Cadence (USA), November 2006****
"Here's a party with conversations everywhere, each track a different story, which pretty well sums up much of the appeal of this offering from the talented Melbourne pianist. The first, Trio Piece In Seconds and Thirds, pops with constantly shifting ideas that take the listener aback. Fragmented, full of tightly scripted calls and responses, then shifting gears into a driving swing. The second, Bananeiro, nods in the direction of Jobim. And so it goes. Each piece has a strong sense of narrative, conversation and direction, from the slow and evocative ones (Stand a Little Taller at Yom Kippur), European jazz (The Tomasa Variations) or echoes of Jelly Roll Morton (Maxine's Stomp), with Winkelman's flourishes and dissonances making it his own. Another strength is the support from, and the space given to, bassist Rodrigo Aravena and drummer Danny Fischer. They have lots of room to stretch out, and create something new, taking the lines from the piano and developing them further with their own voice."
- Leon Gettler, The Age Green Guide, October 20, 2005
General and gig reviews
"I was just about to fly out of the country when I realised that I could squeeze in one last CJC gig. I am glad that I did because the gig was the Ben Winkelman trio. Winkelman has long been resident in New York and so to be included in his two weeks down under tour was our good fortune. He is originally from the USA but he grew up in Melbourne, where he followed the well-trodden musician's path to New York. There is no greater testing ground for a Jazz musician and those who persevere can reap rewards beyond mere name recognition. Winkelman is a pianist with a sensitive touch and open ears and like all good musicians, he has assimilated the sounds around him and forged his own style. 
His playing is bursting with odd meters, Latin rhythms and a gospel tinge.  While his Latin stylings inform most of his compositions there is much more to it than that. In fact, he is not a Latin purist and many Jazz streams are fused skilfully into his playing. He is post-bop in the truest sense, incorporating the entirety of his musical influences and making a music of his own. After the gig, I asked him how his musical evolution led him in the direction it did. 'Once you have the foundations you need to get out there and work and by chance, I ended up landing a lot of New York Salsa gigs and a regular gospel gig'. 
Winkelman's ability to deliver exciting and original music has been noted by the NY Music press and his recent album 'Balance' alongside expat Kiwi bass player Matt Penman and New York drummer Obed Calvaire is a testament to his artistry.  All of the tunes are his own except Bye-Ya  (Monk). The album is beautifully recorded and is out on OA2 Records. For the down under tour he teamed up with old friends and his bandmate choices were spot on. The highly regarded Melbourne bass player Sam Anning accompanied him for the whole tour while the drummers alternated between Ben Vanderwal and Alex Hirlian (the NZ leg). It was Auckland's first time to hear Anning and Hirlian and they certainly won us over. I once heard Anning while visiting Melbourne and I was deeply impressed. He also features on many of my favourite Australian albums. Hirlian gave an extraordinary performance. He is like a bata drummer and a skilled Jazz kit drummer rolled into one." - John Fenton, jazzlocal32.com (New Zealand), November 6, 2019
"In a concert entirely of Winkelman originals, an enthusiastic audience enjoyed pure, straight-down-the-line jazz from the Ben Winkelman Trio. No gymnastics. No histrionics. No showiness. Just class. Pure class.
Winkelman played piano, with Sam Anning on bass and Ben Vanderwal on drums, and all three were as one in a set of tunes inspired by weird things like the New York subway, or an espresso machine, beetroot on a sandwich, or even on-line dating. There was a range of styles, too, but with strong South American – mainly Cuban – influences, brought on no doubt by Winkelman's Cuban muso buddies in New York.
If you were looking for familiar tunes, you would not have found them in this concert for it was wholly highly intellectual improvisations. The trio would be tight as a drum together at one moment, each then, in turn, only to run off to explore their individual spontaneities. Even so, the other members would be right there supporting and anticipating the other's every move. The three were very much of a single mind.
But while all three clearly were highly accomplished musicians, the stand-out for me was bass player, Sam Anning. His solos were musicianship at the highest level. He was absolutely tuned in to his instrument and his fellow band members and produced many brilliant moments of dexterity, taking his instrument to the very extremes of its capability.
But that's not to diminish the performances of Winkelman or Vanderwal, for they, too, were inspiring musicians of the highest calibre. Vanderwal displayed amazing agility and imagination on his drum kit and Winkelman pulled many moods and styles out of the (very nice) grand piano.
Most of the tunes featured in this concert were from Winkelman's new album, "The Knife". Even though Vanderwal is not on the album, if the quality of the performance is any indication of the recording, it will be well worth the investment." - Clinton White, Canberra City News (Australia), March 19, 2016
"Jazz with a gumbo essence
More than 60 years after the death of Jelly Roll Morton - New Orleans pianist and self-proclaimed inventor of jazz - the "Spanish tinge" he described as essential to jazz is alive and well in the hands of Ben Winkelman.
Winkelman named his new CD for the famous quote, and Thursday's launch at Bennetts Lane was liberally seasoned with Hispanic and Afro-Carribean ingredients.
But, if Winkelman's musical gumbo combines flavours from New Orleans, Cuba and Brazil, it's also been strained through a contemporary sensibility.
Thursday's concert opened with a quasi-salsa set to a 7/4 rhythm: the first of several "corrupted claves" we would hear during the night.
In fact, almost all the Latin-inspired numbers bristled with odd time signatures and sly rhythmic shifts. Perhaps, after 14 years of playing for dancers with Latin band Rumberos, Winkelman is keen to ensure that audiences at his trio concerts remain firmly in their seats.
Many of the pianist's compositions are complex, incorporating intricate arrangements that rely on split-second timing and precision. Fortunately for Melbourne audiences, Thursday's gig came at the end of a long national tour, so Winkelman and his colleagues (bassist Sam Anning and drummer Andrew Gander) sounded impressively tight as they negotiated Winkelman's musical brainteasers.
The CD's title track, The Spanish Tinge, was delivered with a wonderfully exuberant energy as it veered from an upbeat, bouncing stride feel - zigzagging through various tempos along the way - to a sashaying tango walk. The Tearing of the Veil sounded like a fun fair ride on a Cuban ghost train, with dark piano chords chopping up a swaying habanera rhythm. The Seven Odyssey conjured up a kaleidoscope of muscial colours and cross-rhythms, all three players determined not to let the knotty time signature prevent them from having a good time."
Jessica Nicholas, The Age (Australia), July 7, 2007